Erosion-Based Morphological Formation Processes in Architecture
Development of an erosion-based computational design methodology and fabrication system for the exploration and production of complex architectural systems
Erosion processes change the topography of the earth in a broad range of scales based on the mobilization, relocation and deposition of particles or material by a medium such as water, wind and ice. The characteristics of erosion provide a wide spectrum of dynamic formation processes and the variety of distinctive shapes and structures unfold new alternatives for the design and fabrication of complex, non-standard architectural systems.
The goal of this research project is to explore the potential of introducing erosion-based processes as a computational design and fabrication tool.
The utilization of these processes of step-by-step reduction and molding of material as a computational design tool is expected to open up a novel insight into the intrinsic characteristics and performative qualities of the respective material system. The implementation of such a multifaceted design context into an adaptive digital fabrication process aims to result in the materialization of genuine, process-specific morphologies and structures, which cannot be produced with standard fabrication methods.
ICD Institute for Computational Design and Construction - Prof. Achim Menges
Scientific Development
Katja Rinderspacher
Funding
State Postgraduate Scholarship Programme Baden Württemberg
Related Publications
De Micoli, S., Rinderspacher, K., Menges, A.: 2017, Stone Morphologies: Erosion-Based Digital Fabrication Through Event-Driven Control, in Humanizing Digital Reality [Proceedings of the Design Modelling Symposium 2017], Paris, pp.102-112. (DOI 10.1007/978-981-10-6611-5_11)
Contact Information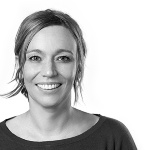 Katja Rinderspacher
M.Arch. (Hons), Dipl.-Ing. (FH)
Academic ITECH Coordinator | SRCArchIDA