Frameworks for Material Computation: Between Form, Topology, and Material Property
In the discipline of architecture, there has been recent interest in computational methods which are driven by material behavior and performance coupled with a profoundly novel interest in the formally generative capabilities innate in material itself. Recent developments in fabrication technologies, particularly the ability to locally manipulate the mechanical properties of materials, challenges the singularity and determinism of existing computational protocols, which are primarily formal or topological in nature. By reconsidering and hybridizing knowledge based and behavioral based approaches to material computation, this doctoral research will question the autonomy of the computational process: its ability to both determine what type of change or manipulation best enhances performance in a given scenario and to internalize the process of making decisions between multiple development strategies. The objective of the research is to allow the computational design process to more closely appropriate the non- linear and open ended process of design, reflecting the underlying notion that a design problem can be solved or enhanced in many ways.
ICD Institute for Computational Design - Prof. Achim Menges
Scientific Development
Lauren Vasey
Funding
State Postgraduate Scholarship Programme Baden Württemberg
Related Publications
Vasey, L. Baharlou, E., Dörstelmann, M. Koslowski, V. Prado. M, Schieber, S. Menges, A. Knippers J. "Behavioral design and adaptive robotic fabrication of a fiber composite compression shell with pneumatic formwork." Computational Ecologies: Design in the Anthropocene: Acadia Conference Proceedings, 2015
Vasey, L., Nguyen, N., Grossman, T., Kerrick, H., Nagy, D., Atherton, E., Thomasson, D., Cote, N., Benjamin, D., Fitzmaurice, G., Menges, A. "Collaborative Construction: Human and Robotic Collaboration Enabling the Fabrication and Assembly of a Filament-Wound Structure." ACADIA // 2016: POSTHUMAN FRONTIERS: Data, Designers, and Cognitive Machines [Proceedings of the 36th Annual Conference of the Association for Computer Aided Design in Architecture, 2016
Related Research Buildings / Prototypes
Contact Information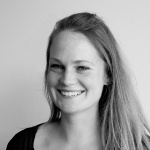 Lauren Vasey
M.Arch. (Dist.), B.S.Eng (Hons.), Dr.-Ing.
Research Associate